The new Mercedes-Benz EQS sedan lacks two traditional features of the German automaker's US-market cars: a trunk and an internal combustion engine.
The EQS, a sleek, four-door hatchback with six-figure pricing, is the first Mercedes distributed in the States with a battery-electric drivetrain. A high-tech, high-performing land yacht, it occupies the opposite pole of the electric-car world from Nissan's compact, affordable Leaf.
Both trim levels of the EQS are built around a 108-killowatt-hour (kWh) battery. The EQS 450+, starting at $102,310, has a 245 kW/329 horsepower electric motor driving the rear wheels, while the EQS 580 4Matic, $119,110 and up, features dual motors with a combined 385 kW/516 hp powering all four wheels.
As the first model of a US EV lineup set to expand to the smaller EQE sedan and the EQB seven-seat SUV, the EQS qualifies for the federal electric-vehicle tax credit-not that purchases in this price bracket likely hinge on that $7,500 incentive.
EPA estimates give the EQS 450+ a 350-mile range, with the 580 rated for 340 miles. Those numbers, below EPA figures for such upmarket rivals as the 516-mile Lucid Air, may be conservative; European benchmarking put the EQS range at up to 478 miles, and Edmunds.com's testing around Los Angeles yielded a 422-mile range for the 450+.
The EQS charges via a standard CCS port on the passenger side. Mercedes says a 200 kW DC fast-charging station will zap 186 miles of range into the battery in 15 minutes (the vehicle comes with two years of free 30-minute visits at Electrify America chargers), while a household 240v outlet will need more than 11 hours to recharge it completely.
On the Road With the EQS 580
In a roughly half-hour drive around Tysons Corner, Va., and nearby highways last week, an EQS 580 offered both vault-like insulation from the surroundings and velocity to get away from them. It treats a driver to the usual electric-vehicle virtue of instant pickup-electric motors shove torque straight to the wheels, without a gas engine's need to rev up, and then translate that energy through a crankshaft and gearbox.
Mercedes says the EQS 580, notwithstanding its 5,888-pound weight, can clock 0-60mph in 4.1 seconds. DC-area traffic did not grant independent verification of that, but I did confirm that this vehicle can slingshot itself out of a stoplight and onto a highway.
An electric drivetrain also makes for much simpler, cheaper maintenance-a point the EQS underscores with a hood that's not designed to be opened except by a support shop.
While Benz lacks a gas engine's roar, it can fill its quiet cabin with its own soundtrack of preset "Sound Experiences." Of two I auditioned, "Silver Waves" generally hewed to the usual whirs and hums of an electric powertrain, while "Vivid Flux" added whooshes and zooms as if I were maneuvering out of Spacedock instead of tugging out of an intersection.
The starship ambience continues with the 580's "Hyperscreen," a 56-inch trio of shows that span the full dashboard and come accessorized with color-changing LED strips that evoke mood lighting but can also flash red to warn of a too-close car.
The driver's screen features a variety of digital renditions of dashboard functions. The just physical controls easily within my reach from the driver's seat had been the buttons and fuses on the guiding wheel to adapt the sound quantity, operate the traffic-sensitive cruise control, change through functionality and regenerative-braking choices, and toggle between screen modes for the display screen in front of the wheel.
Like Tesla's all-encompassing touch-screen user interface, this "MBUX" setup risks adding to a driver's cognitive insert, specifically for fresh drivers learning its layout still.
(In the end of November, Mercedes conducted a recall of 227 EQS and gas-powered S-class automobiles to address a misconfiguration that permit people view Television and search the internet while the automobile was in movement.)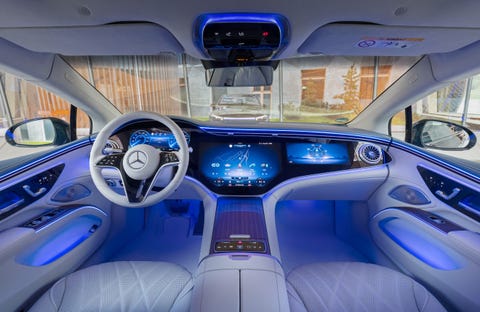 One of the more conservative driver's display screen designs available.
The display features Mercedes' own navigation system-which, in places with the necessary road infrastructure, Virginia included, adds a countdown timer for the next stoplight. The car contains built-in T-Mobile LTE but also facilitates wireless Apple Android and CarPlay Car for your very own phones, with USB-C ports close to the dashboard and a Qi cordless-charging surface to maintain those devices billed. A finger-print sensor identifies you to provide up your salvaged choices.
The exterior of the EQS is studded with sensors to support an array of assisted-driving systems that in Germany now include automated traveling at up to 37mph on closed-access highways charted in okay detail by Mercedes. But on the check car, the higher-end options weren't enabled.
The driver's seat felt remarkably comfortable, including a pillowy headrest backing. The backseat has ample space for three passengers, provided the middle human is usually on the svelte side. Behind them, the hatch opens to reveal as much as 63 cubic feet of cargo capacity with the rear seats folded down-a remarkably practical touch in a car that can feel like an electric spaceship.